Not Another Indie Disco meets Public Access T.V.
In 2015 Public Access T.V. were hailed as 'New York's Hottest New Band', NME listed their debut LP 'Never Enough' in their best albums of the year, support slots with the likes of The Strokes, Weezer, The Killers & Pixies followed and they lost all their gear when their East Village loft blew up in the notorious 2nd Avenue Gas Explosion.

Fast forward to February 2018 and with
their sophomore album, 'Street Safari' due to hit the shelves tomorrow,
Not Another Indie Disco caught up with John Eatherly & Pete Sustarsic from the band
a couple of hours before their biggest ever UK headline gig as part of the 2018 NME Awards Shows.
Dressed in a white t shirt, white jeans and black leather jacket, lead singer John Eatherly looks just as much the rock star which has seen his band labelled as the most underrated band of the decade. With their tracks soundtracking most indie discos in 2018 we wondered if they ever hung out at indie clubs growing up?
Johnny: No, I grew up in Tennessee & moved to New York when I was 18. When I moved to New York I just hung out at bars. I went to nightclubs and I guess they'd play some indie rock, but it was more the classics like Bowie's Let's Dance and big songs, it wasn't like modern. Occasionally they'd throw a Strokes song in there or something.

NAID: 'End of an Era' on the first album, was that written as a reaction to you finding that the kids today weren't really into rock & roll?

Johnny: Well I think a certain amount of people are always into rock & roll, you can't argue with that. The song is meant to be tongue in cheek. That song is really poppy, probably the most poppy song on the album. It's just how I was feeling at the time and I probably wrote it because I felt as though people weren't interested in listening to us.
I love all different types of music...

At this point we're interrupted by a member of staff from the venue

Waitress: Sorry guys, are you with Toby?

Johnny: Erm, no!

We're informed that the table we're currently sitting at has been reserved for someone called Toby and that he has arrived and wants his seat.
We assess the situation and see that Toby isn't a particularly big lad and unanimously decide that the three of us can probably take him if he gets leary, so keep chatting

NAID: Ah, OK. We're just going to be a couple more minutes.

Johnny: We'll move if Toby comes

We then get onto random topics such as Peaky Blinders and start musing about why their tracks 'Told You Too Much' and 'Lost In The Game' have been included in the official Peaky Blinders playlist on Spotify despite the fact they have no affiliation with the show and neither tracks have ever featured in an episode.

Johnny: Yeah, I don't know how that works. But I've heard the TV show is really good. I've never seen it though, do they even play new music on that show?

NAID: Yeah, I mean I've never really seen it either but they have a fucking awesome soundtrack; White Stripes, The Kills, Black Rebel Motorcycle Club, Arctic Monkeys, Nick Cave, Iggy Pop and stuff.

Johnny: Oh shit, really? No, I wish we were on it but no. Apparently we're on the Baby Driver playlist too but again we're not in that either.
I finally get back to the original topic and ask what the New York indie club scene is like…

Johnny: Most every bar I hang out in in East Village has it's own DJ and every night has a different DJ. It's not like a big deal DJ or anything it's probably just some guy you know who gets paid 100 bucks and sits there with their computer or maybe even bring their vinyl and just sit there for 4 hours and DJ. So I guess in that sense everywhere is a kind of indie disco or becomes one, but it's not that kind of scene out there. We've noticed it's more of a thing over here the "indie night" you know the indie 2000s night!

And so, with Toby lurking impatiently behind us wanting his table, I cut to the chase and go for big question of the night…

NAID: So, if you were DJing at our club which of your songs would you play to get the crowd going?

Johnny: If I was DJing I probably wouldn't play my own music.

NAID: I know, but play along with the game. If you had to play one what would it be?
Johnny:
OK if I had to I'd play a new one, a dancey one like 'Lost In The Game'

Pete: I'd play 'Metrotech' because that reminds me of Michael Jackson

NAID: And the one indie disco banger you'd whack on to get the crowd going?

Johnny: Oh, 'Got My Mind Set On You' is my top one.

NAID: What George Harrison? Really?

Johnny: Occasionally they sneak that one in and it always goes down great!

Pete: Which one is that?

Johnny then does his own little rendition of the song before pointing out that it's a cover version which I did not know and on further investigation found out it was indeed originally recorded by James Ray back in 1962, so even I've learnt somethng today.

Pete: Ah, yeah. I know Weird Al Yankovic has a version "This song's just six words long"
Johnny:
Haha! But yeah, I'm not kidding that played at an indie disco night would get them all up. It definitely goes over well.

On that note we decide to avoid any potential trouble with Toby and finish up so he can finally have his table and order his pulled pork burger and triple dipped fries. Whilst Johnny & Pete go and prepare for the gig.


Public Access T.V.'s ace new album 'Street Safari' is out now on CD, vinyl and MP3 download.

Not Another Indie Disco is on every Saturday at O2 Academy2 Islington from 10:30pm-3:30am where you can hear more Public Access T.V. and witness yourself how Johnny's suggestion of 'Got My Mind Set On You' goes down.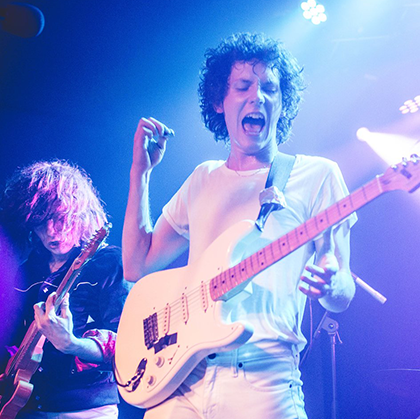 Public Access TV - Lost In The Game
Public Access TV - Metrotech
George Harrison - Got My Mind Set On You