Not Another Indie Disco meet Idles
Bristol band Idles have been carving quite a reputation for themsleves over the last few years. NME described their 2017 debut album 'Brutalism' as an"expletive-laden, punk triumph that tackles the current Tory rule, toxic masculinity and mental health" and their live shows have become almost legendary. Not Another Indie Disco took a trip to Southend on Sea on a grey, rainy April evening to have a quick 5 minute chat with frontman Joe Talbot and guitarist Mark Bowen ahead of another completely sold out show of their current tour.
After the usual pleasantries and a brief discussion about Southend and how everyone here seems to have Dick Van Dyke accents, I had to ask them if the rumour about them landing the support slot with the Foo Fighters at O2 Arena last year was all down to to them sending Dave Grohl and co a jigsaw puzzle of their Bassist, Dev in just his pants was true...

Joe: Yeah, that's totally true, that's how we got the job. We were told that we were on a shortlist of about 10-20 bands to support them so I came up with an idea almost immediately to make them someting that they had to build and put a bit of an effort in to show them we really wanted the job. I mean, I think there's a lot of bullshit around but if you show that you really want something and are willing to put the effort in, you'll get it. If you're good...well, you don't HAVE to be good. You either have to be good or have rich parents…

NAID: And you're good?

Joe: No, I've got rich parents...
But yeah, Dave Grohl was around us all night and he was really supportive and funny. Really cool. Great experience but we're past that and don't like to look back. It was a good experience but everytime you support someone your only opportunity is to gain new fans. I like the competition, I like to try and beat the people we're supporting, as I hope all our support bands do, I don't want them to think they're less of a band than us just because they've got a few less likes than us on Facebook. And now we're in a spot where we can pick our support bands which means we get to play with people we love.

NAID: I was going to ask about that, who is supporting you on this tour?

Joe: We've got LICE and they're fucking amazing. We wanted a band who could keep us on our toes and who've made a beautiful record and are amazing live and who've worked hard and are honest and loving people. We don't want to be around arseholes, we want someone who works hard.

NAID: Yeah, I saw them play the Windmill in Brixton last year and,I might be wrong, but I have a feeling the night was promoted by Fat White Family, or one of them were DJing after or something. I know Fat White Family are someone you've been lumped together with in the media due to you both being quite political, is that something you're happy with?

Joe: There's similarities that we're very comfortable with. They're also lovely guys and make great great music. I think that's an easy comparison but I don't think musically were the same......erm, I came over here for a reason...

Joe then pauses to muse about why he got up and wandered over to the table full of refreshments before clicking his fingers and reaching for the kettle to make himself a tea….

Joe: I mean, I'm not going to throw my toys out the pram because someone's compared us to a band that have definitely got a similar aura about them, like that organised chaos, a bit of violence behind what they do that isn't necessarily angry. They obviously have compassion and problems but they wear it on their sleeves and I think that kind of visceral
energy that they carry, we also carry, so when we get compared to them we're like "Yeah yeah, I can see that" . Obviosuly our albums are completely different but yeah we are similar. In the same way we're similar to LIFE and Cabbage but for different reasons.

NAID: So was the band started to create a platform to express your political views or did the band come first and then all of a sudden you realised, "Hey, we can say something here. We've got a voice now?"

Joe: No, we started a band just because we loved music. When we were DJing, Dev (Idles bassist Adam Devonshire) and I, I was playing songs and seeing the reactions from people in the club and I suddenly thought "hey wait, I am already involved somehow in music playing these songs, why don't I just try and start a band?". Because I love music so much it kind of didn't make sense to not get more involved. I don't think there was any real intention to be political or rock n roll I just knew I wanted to make music

Mark: I think the politics thing just comes from one of the reasons why we're all in the band together and being a very honest band is really important to us. It's just something we generally talk about a lot. I mean, we don't really talk about romance or our relationships or stuff.

Joe: Yeah, we don't talk about Eastenders and football and stuff. Well actually that's a lie Lee, Jon & Dev do but not to us. But Lee (guitarist Lee Kiernan) and I have very frank discussions about his addiction and about my addiction. Bowen (Mark) and I have quite frank discussions about progression and how to deal with that, especially me becasue I have really problematic behaviour which is usually quite cyclicle and I know I can go to Bowen about it beacuse he's a very emotionally intellectual person and he's quite pragmatic in his approach to life so we construct my behaviour and we talk about it.

NAID: With your behavioural problems, would you say being in a band helps with that and that going out on stage every night and jumping around and singing can act as kind of a release or therapy?

Joe: Yes! I think writing is the output. Everything I've written over the past two records I've learnt that I can actually be quite cathartic without being selfish. So writing helps but obviosuly, if I wasn't writing or wasn't on stage I wouldn't be getting a gun out and killing people. But, I think the band and the music has definitely saved my life. It's probably impeded Bowen's, he'd probably be a lot less stressed and working happily as a dentist somewhere...

Mark looks up from restringing his guitar with a raised eyebrow and a look which I'm not quite sure suggests he's agreeing with the last comment or not

Joe: Well actually, no! It's not the music that has saved me, that's bullshit really. The thing that has really saved me is my mates and my partner, and because they've saved me it's given me an avenue to speak about it to other people via the music.

NAID: Going back to your comments about DJing, you actually had your own club for a while back in Bristol didn't you (The Batcave). What was that, was that an indie club?

Joe: Yeah, well kind of like indie/loose-indie but really it was just any kind of guitar

NAID: So do you have a favouirte indie tune or if you were going to play a particular track to get everyone on the dancefloor going what would it be?

Joe: If I could choose I'd play my favourite song of all time which is 'The Rat' by The Walkmen. if I was going to play something to get everyone going?......Yeah, again 'The Rat' by The Walkmen

NAID: Same again?

Joe: Yeah, fuck 'em! And if that didn't get them going I'd play something even better, something like 'Negative' by A Frames which is my favourite riff of all time and I would just enjoy that myself and go to sleep. But I always find it's the genre benders that work well and get a good reaction. As you know being a DJ, if you've been doing it for more than 6 months you know what songs work and what ones don't. So if you got a crowd that just look like (a) it's getting a bit boisterous (b) its getting bored or (c) you just want to put something on that just gets everyone pumped, play a wild card. Like if you're at a post-punk indie punk night then just play a song that they're not expecting like a hip hop tune or something. The best example I've ever seen of that is when Har Mar Superstar DJed at the Apollo once and he was doing this set that was going really well but he just finished the whole thing with 'All I want For Christmas Is you' by Mariah Carey and this was in the middle of summer and everyone just kind of looked up, saw the genius in it and just went for it. So there's an oath to that in that genre is just what you allow it to be

NAID: What about you, Mark?

Mark: Oh fucking hell…..errrrrrrrr, oh 'Modern Love' David Bowie

NAID: The Idles track that gets requested most by our lot is 'MOTHER'. Is that the one of your's that you'd probably pick first to play?

Joe: Yeah it is, Mother yeah.

NAID: Why that one?

Mark: It's the one people respond to most, so yeah

Joe: I mean the album we're just about to put out has way more tunes on it that I'd pick above that but until people know them…

NAID: So you gonna be playing a few newbies tonight?

Joe: Yeah, well I think we've got 6 tonight 2 of which have never been played before. So no recording them on your phone, haha!

NAID: Haha! Did you hear about Jack White banning everyone from brining phones into his gigs? What's your stance on that?

Joe: I honestly don't care. I mean what is the difference? I mean, I think it's a shame that people want to get their phones out

Mark: I took a phone off a guy once at a gig because we asked at the beginning of the song not to use their phones and he basically got it out just because we asked not to

Joe: But no it's a dislocation between you and the actual listening to music but I'm not going to tell someone how to behave as long as it's not impeding on anyone. Like if it was me and they were blocking my view I'd just say something like "Oi mate, can you stand behind me or just put your phone down because I just want to watch the gig but not through your fucking phone"

I then look at the time and realise my "quick 5 minute chat" has actually been nearly half an hour so I attempt to wrap things up apologise about my bad timekeeping but they don't seem bothered and I get the impression that I could stay for another hour or so and they'd still be too polite to tell me to get out. But we're at the seaside and the penny arcade machines await so I bid farewell and excitably skip off to lose all my money.

IDLES' London show at Heaven has been sold out for months, but they're appearing at numerours festivals over the summer so check the line ups. Their current album 'Brutalism' is out now on Partisan Records and keep your eyes peeled for news about their upcoming new album.
And obviously you can hear the odd Idles track every Saturday at Not Another Indie Disco as well as seeing how Joe & Mark's indie track suggestions go down.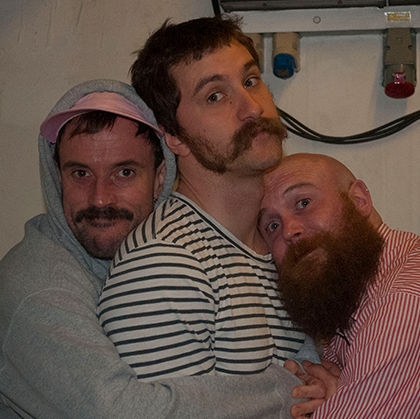 David Bowie - Modern Love